The holidays are about spending time with your family, and although this year may be different with COVID 19 regulations in the way, the holiday spirit won't be crushed!
Celebrate the holidays with smiles and heart-warming memories with loved ones. Springbay Studio wants to be a part of this bond too. As kids generate knowledge through experiential learning, we want to be a part of an experience they will remember. iBiome isn't just some game, but an educational app that is your biome to explore.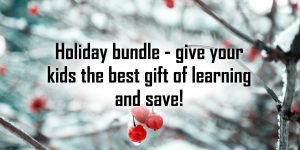 This holiday, we were hoping to offer you a deal that transcends physical boundaries, so even across the world, you can reach your loved ones with a fun, science game experience. It's easy to do: buy two and get one free. Just purchase any two iBiome games, send us an email with a screenshot of your iBiome games on your device, tell us any iBiome games you want for free, and we will send it to you. Our email box: communications at springbaystudio dot com ( replace "at" with @, and dot with . )
This is a special holiday bundle. So get it while it lasts. 
Wishing you a happy holiday from us to yours!
Forster your children's education with science games this holiday!